Serving Painting Collectors Since 1985
Why We Are Unique
At Galerie Rienzo our strong belief in the period commonly known as the School of Paris since 1910, and Modern French Masters as an

important source for collectors, is justified by the steady, and in many cases spectacular rise in values of these paintings.
This fascinating period of history, from 1910 to the present takes us on an interesting tour through a variety of worlds. The scope of the

20th Century guarantees a wide appeal and insures everyone will find something special, from the person who desires to find one or two

artworks for their home to the collector or foundation acquiring to build a landmark collection.
We are certain of the 20th Century as a highly collection market, and we have devoted our gallery to paintings of this period. Our search

for the very best examples of their period is ongoing because we take pride in offering our clients only excellence and the highest quality

paintings available. Our expert research department assures our clients they are purchasing authentic, documented works of art, all with

accompanying photo certificate by authorized experts.
Paintings of international stature have shown appreciation for many years and will do so in the future. AS the world shrinks due to modern

communications, the number of new art collectors and their awareness is increasing. This coupled with the large growth of collectors in Russia,

India, and China as well as the opening of many local museums has greatly reduced the number of works available on the market.

Many sellers are driven away from the major auction houses by the high fees and the public nature of their sales. This provides a great

opportunity to collectors wishing to acquire works privately and constitute a majority of our business.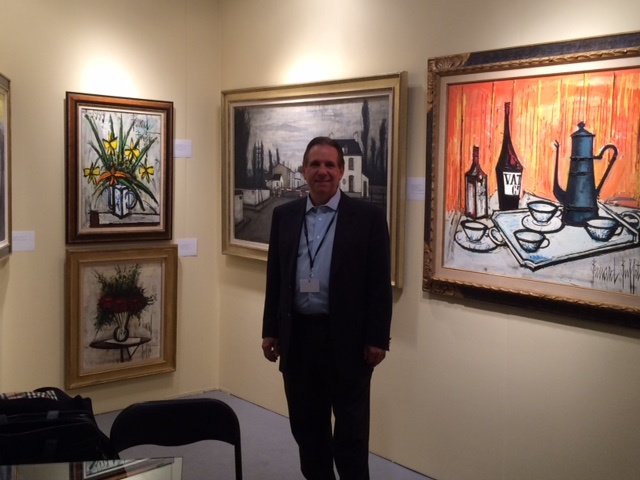 Collector Turned Expert
After being actively involved in the art industry for many years, Robert Rienzo opened Galerie Rienzo on Madison Avenue in New York City in 1985. With the invaluable expertise acquired as an avid collector, it wasn't long before Galerie Rienzo became one of the finest in New York, and an important pillar of knowledge in works by the artists of the School of Paris. Over the years, It has built up an impressive clientele of international collectors and art lovers, including spanning from Wall Street to Hollywood.
Robert Rienzo is the acknowledged expert as well as the exclusive New York representative of the French Master Bernard Buffet. He is also the leading authority on Aizpiri, Cassigneul, Jansem, Matisse, Dufy and many others from the School of Paris.
A major revolution has taken place in the art world over the last two decades. Not a new school of painting, but the creation of a new awareness of art more than ever before. Clients now realize that, not unlike purchasing a home, they are at a serious disadvantage if they seek the wrong counsel when purchasing a work of fine art, as it can be a costly mistake.
We are here to educate you on the difference between cost & value.
Our staff is here to assist you, and to discuss any questions you may have.

We are available by appointment only.